SWIM HAIR
Regular price
$24.95
$0.00
Unit price
per
Description
Ingredients
Shipping
SWIM HAIR protects your hair from chlorine and salt water that strip the natural oils from your hair, leaving it dry and damaged.
Use before swimming as a protectant and after swimming to re-hydrate your hair while neutralising the residual chlorine and eliminating the smell
Directions
Before and after swimming, spray SWIM HAIR liberally all over your locks for hydrated, chlorine free hair.
Distilled water
Ascorbic acid (Vitamin C)
Caprylic/capric triglyceride (Fractionated coconut oil)
Simmondsia Chinensis (Jojoba) Seed Oil
Sunflower lecithin
Citrus medica limonum 100% pure essential oil (Lemon)
All products in SWIM HAIR are on the list of Curly Girl Method approved products.
All orders are sent via Australia Post.
Please note that the impacts of the Coronavirus pandemic are causing significant delays. Thank you for your patience.
Australia:
Flat rate shipping - $6.00
Standard domestic delivery typically takes 2-7 business days, while express items will take 1-3 business days. Delivery times may vary depending on your destination.
International:
Flat rate shipping rate is automatically calculated at the checkout and is based on your location.
---
Customer Reviews
16 Mar 2021
Andrea M.

Australia
I recommend this product
Fantastic
I have thick curly hair. Swim hair protects my curls. I love it.
08 Mar 2021
Romany V.

Australia
I recommend this product
Fantastic product, prevents post swim flat hair and itchy skin
Hair and skin sprays cone in great bottles, no leaks in the swim bag. Using the hair spray before swimming prevents me from getting flat hair. The skin spray relieves the chlorine smell and tight feeling. The goggles were good, but didn't prevent red marks around my eyes (I've just got massive eye sockets ) The towel is so good for wearing from pool deck to change room, no drips when driving home
07 Mar 2021
Renee C.

Australia
I recommend this product
LOVE LOVE LOVE
Absolutely Love how you can use it for more than one thing! I love that you can use it for protection And then for afterwards being able to make your hair not just feel soft and hydrated but being able to remove the chemical smell! I haven't washed my hair and usually I have to because my ends are all ratty Love that it's kid and baby friendly! Love the packaging! I can safely give it to my 3 year old without worrying about him dropping it as it's not glass!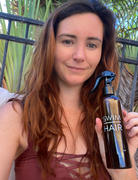 06 Mar 2021
Heather P.

Australia
I recommend this product
Swim Hair Saviour
Love this product! I spray a little on before putting on my swimming cap and then spray on my post-swim hair. I have wavy porous hair that really goes frizzy without attention. Normally this has meant always having to wash and condition immediately after swimming. Swim Hair left my hair feeling soft and it dried with nice frizz-free waves. Gets me through to the next wash day beautifully.
06 Mar 2021
Renae J.

Australia
I recommend this product
Love it!
As a swimming teacher and also a swimmer I have been struggling the last few months with my skin constantly stinging. I found Swim Skin and decided to give it a go. First time I hopped out of the pool with stinging skin I sprayed it on and it instantly stopped the sting. For the past week, using it every day my skin has been stinging less and less. I will definitely be buying again.
04 Mar 2021
Kylie H.

Australia
I recommend this product
Swim Hair Don't Care!
Say so long to crusty tangled post swim hair. I was about to resort to giving my mane the chop but gave it one more opportunity when I discovered this little local gem: Swim Hair. My hair is now a dream to brush and no longer feels dry (and I colour my hair). Strongly recommend this spray for busy athletes and lazy beach bums .
01 Mar 2021
Tina S.

Australia
I recommend this product
Totally worth every cent
I use the hair and skin one on our whole family after the pool, my hair never feels like straw after and no yucky chlorine smell on the skin, which is great after our 4yo swimming lessons. Will definitely keep buying. Thank you!!
27 Feb 2021
Kylie H.

Australia
I recommend this product
Kylie
Awesome products! After starting work as a swim instructor my skin became unbearably dry and itchy and my hair like straw. Finally bought swim skin & hair and after 1 week of use and continued use my skin is back to normal! No dry itchy skin! Swim hair is fantastic and makes my hair feel much healthier after each day in the pool. Softer and smells great! Totally recommending these products to my colleagues
21 Feb 2021
Julie D.

Australia
I recommend this product
Love it!
As a swimming teacher I thought I was destined to smell of chlorine constantly forever - but after discovering Swim Skin & Swim Body, I no longer have that lingering chlorine smell!! That's a win in my book
19 Feb 2021
Kassi C.

Australia
I recommend this product
LOVE!
I had purchased the Swim Bag Bundle.. and oh my word! It is amazing! Plus the goggles are incredible! Thank you for putting together such a great idea and beautiful product!